Sum37 Secret Essence Mask 3-step Kit 1ea
KRW 15.000
KRW 4,500 (≈ USD3.75 / EUR3.52 )
Not One box but "1ea of Secret essence 3step maskpack"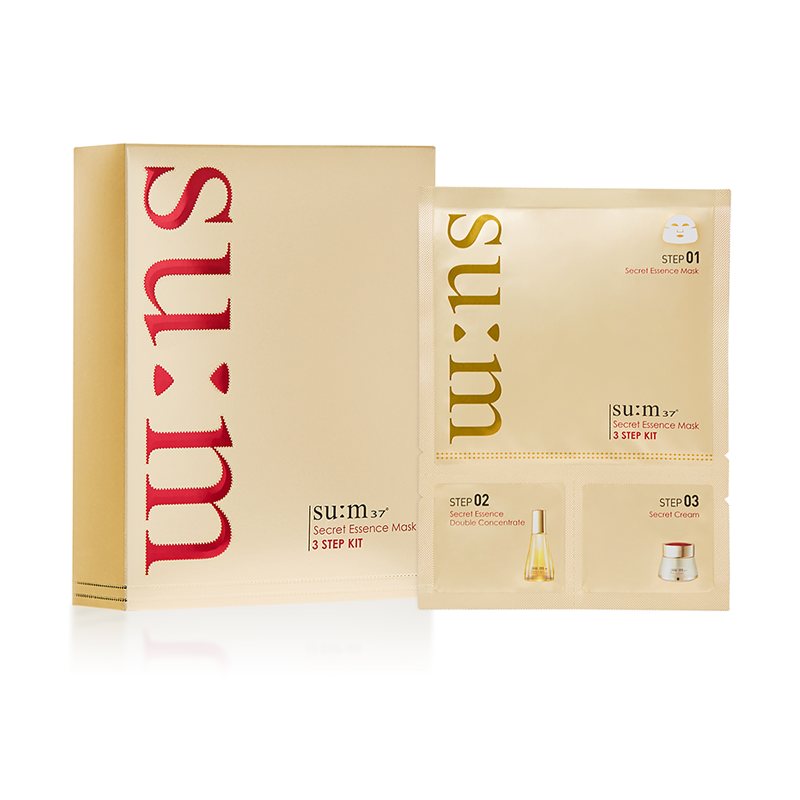 Sum37 Secret Essence Mask 3-Step
Description:
A caring skin care set consists of Secret Essence Mask, Secret Double Concentrate and Secret Cream. Convenient to carry, especially suitable for travel. Apply this routine to provide essential oxygen and firmness to skin, and create a radiant skin tone on-the-go.
Direction of use:
1.Avoid areas around eyes and lips to apply the mask for around 15 minutes, and then remove the mask and gently tap the face for easier absorption.
2.Take an appropriate amount of Secret Double Concentrate on palm, and apply on face with gentle massage.
3.Take appropriate amount of cream, apply on face with gentle massage for fast aborption.


We've collected resources from around the web to help you make your purchasing decisions.
Write
•1. We ship to worldwide.
•2. Shipping location is SOUTH KOREA.
•3. Our shipping term is generally 3-10 business days after your payment. but it may be longer according to the indicated 'preparation period' of item.
•4. If the parcel's weight is over 1700g, there is no opportunity to select K-Packet as a shipping method since they have weight limitation. DHL, EMS, AIR PARCEL & Rincos will appear as a available shipping method for the weight over 1700g.
•5. The shipping to some countries may be delayed since it take a route via Russia.
(such as Azerbaijan, Armenia, Moldova, Kazakhstan, Kyrgyzstan, Ukraine, Tajikistan, Turkmenistan, Lithuania, Belarus)
In this case it has the different destination country and zip code at the tracking status but the parcel is sent to the correct shipping address. Please don't worry about it.
* You can track your package on our website by yourself.
Tester Korea provides tracking number for all of our orders to ensure the safety of its delivery.
If you need further information, click the 'Shopping' Info link at the bottom the page.
When the parcel is returned to us as "failure delivery", we will inform and give you 2 options whether to get a refund or resend. If we are not in charge for the failure of delivery, the shipping fee is not refundable.
In case of missing parcel, when the claiming of the parcel has been terminated with the result as "missing", we will full refund.